Smoked Vegetables are delicious. These are easy to prepare and are one of people favorite side-dishes to make when they smoke things.
Smoked Vegetable Recipe : Here is the simplest vegetable recipe you can try.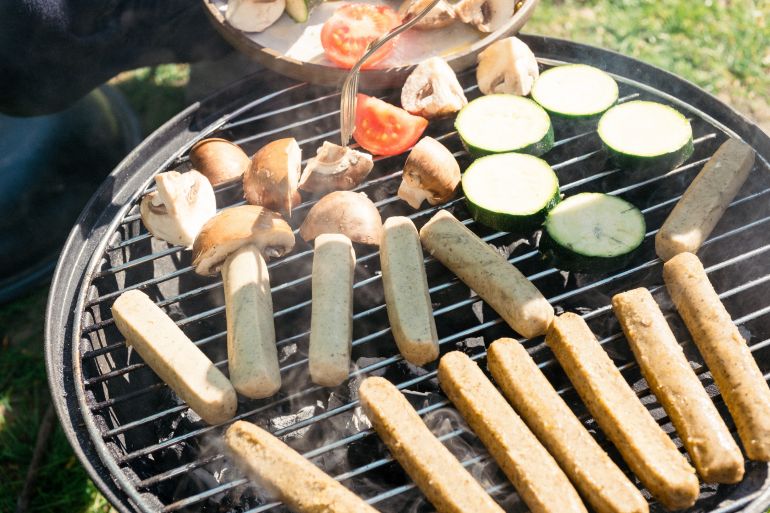 Ingredients
Two zucchinis sliced
One yellow summer squash sliced
One red onion
2 Tbsp olive oil
One red pepper
2 Tbsp balsamic vinegar
Five cloves garlic minced
1 tsp sea salt
1/2 tsp black pepper
Instructions
Take a bowl and mix all ingredients in it.
Preheat pellet grill to 300 degrees. We utilized competition blend pellets in the pellet grill.
Close pellet grill lid and cook at 350 degrees for about 25 to 30 minutes or until vegetables are caramelized and cooked through.
Vegetable Options
This recipe is versatile; thus, you can utilize whatever vegetable you like. Another option is to slice certain ring sausage and toss it in there for a quick meal.
Here are some excellent options for using in this recipe;
Corn
Red Onion
Yellow Squash
Green Bell Pepper
Brussels sprouts halved
Asparagus
Red Bell Pepper
Yellow Bell Pepper
Mushrooms
Carrots
Cauliflower
Eggplant
Eating combination of vegetables can give you some of the below nutrition
Carbohydrates: 10 g
Calories: 110 kcal
Protein: 1 g
Fat: 6g
Sodium: 590 mg
Potassium: 510mg
Saturated Fat: 2 g
Dietary Fiber: 3 g
Sugar: 7 g
Vitamin A: 1226 IU
Vitamin C: 67 mg
Calcium: 38 mg
Iron: 0.7 mg
Health Benefits of Smoked Vegetables
Red Onion
Red onion has plenty of health benefits, and these advantages come from antioxidants. Different studies show that one significant antioxidant, called quercetin, saves your health in plenty of ways. One research highlights that quercetin combats inflammation and maximizes the immune system.
Carrots
It is crunchy, flavorful and highly nutritious. They are a high source of beta carotene, dietary fiber, potassium, vitamin C, vitamin K1, and antioxidants. A weight friendly food and associated with reduced cholesterol level and promoted eye health.
Mushrooms
All types of edible mushrooms contain varying degrees of protein and fiber. They also contain B vitamins as well as a powerful antioxidant called selenium, which helps to support the immune system and prevent damage to cells and tissues.
In particular, white button mushrooms are one of the few non-animal sources of vitamin D. When they are grown, whether indoor or outdoor, they are exposed to UV light which increases their concentration of vitamin D.
Egg Plants
A serving of eggplant offers almost 10% of an individual's daily requirement of dietary fibre, copper, manganese, and thiamine. It also consists of other vitamins or minerals.
Besides, they are a good source of phenolic compounds. These compounds function as antioxidants. They are molecules helping your body remove free radicals (highly reactive and unstable molecules that can damage cells if they gather in the large amount.
Foods that consist of antioxidants may get rid of a range of health conditions. These antioxidants are anthocyanins involving lutein or zeaxanthin.
Cauliflower
There is the high water content in cauliflower, and it helps keep you hydrated throughout the day. Cauliflower is also a significant source of dietary fibre.
It consists of a group of substances called glucosinolates. By chewing or digesting it, these substances are broken down into compounds to prevent the risk of particular cancer. They help save your cells from damage. Besides health nutrients, cauliflower also has antiviral, anti-inflammatory and antibacterial properties.
Conclusion
These quick and easy smoky veggies are the ideal side meals. Plenty of flavor from balsamic or seasonings, then efficiently smoked for a hidden taste. So, try them and make your life worth living!